JVViews: December 2012 Issue
January 2013 Luncheon
PJVA Certificate Programs and eStudies
CO&O Task Force
Luncheon Reviews
Member Inspiration Requested!
eStudies and Web Based Learning
Looking for a New Opportunity?
PJVA LinkedIn® Group
January 2013 Luncheon
Thursday, January 17, 2013
11:00 am to 1:30 pm
The Petroleum Club
319 - 5 Avenue SW, Devonian Room 2nd floor
Start the new year with some savvy investment advice! Join us on January 17 for Brad Gustafson's presentation
Investing Where the Puck is Going
. Brad preaches "to embrace the new truths" of the future and with that your investing style must address the new truths. Things like casinos, liquor, restaurants and health care stocks, to name a few, will be at the forefront of the investing future. If you can figure out what the Boomers want to buy, you can figure out where the stock market will be headed.
Essentially... you're going where the puck is going - not where it's already been.
Luncheon Details
Register Now >>
---
PJVA Certificate Programs and eStudies
PJVA has been offering Joint Venture Administration and Joint Venture Analyst certification in partnership with Mount Royal University since 2006. PJVA has a commitment to meeting the needs of students in the Joint Venture programs offered at Mount Royal University, and as such, a renewal of the course materials has taken place over the last two years, with significant program changes culminating in Sept 2013.
The original materials that were prepared by PJVA have undergone a significant revitalization as well as a move to an optional online platform to allow students greater flexibility in how they choose to complete their certificate. The following is a summary of all changes:
JV Agreements - new materials and online course option - began May 2011
JV Administration - new materials and online course option - began May 2011
Analyst 1 - new materials - began Sept 2012 - online course option - scheduled Jan 2013
Analyst 2 - new materials and online course option - scheduled Sept 2013
Analyst 3 - removal from program - scheduled Dec 2013
The overall program change includes a reduction in the number of courses required to attain the Analyst certificate through the removal of Analyst Level 3 from the program. Analyst 3 course material will be incorporated into the updated Analyst 2 course, and the negotiations and coaching aspect will be rolled into the seminars portfolio as a new course; the schedule for this is currently being determined. Analyst 3 is an excellent course that routinely earns rave reviews from students. The reason for this change is to ensure that our certificate accurately reflects the typical job description for an Analyst; the A3 course goes beyond this and as such we striving to preserve the material in a new continuing education course.
All courses that are offered online can also be completed through the PJVA website's eStudies program, which allows courses to be purchased as separate modules to allow students to only complete the most relevant portions. Any course taken through eStudies will NOT be credited towards a certificate from MRU.
The continuing success of the Joint Venture certificate programs is entirely due to the volunteers and teachers who have given such an outstanding gift of their time and expertise. I would personally like to thank Tracey Moore-Lewis, Catherine Scully, Lorie Caron, Grant Feddema, Lisa Hugo, Jan McLean, Kevin Johnston, Marilyn McAvoy, Paul O'Gorman, Kevin Milner, Randy Tomilson, Brian Zimmer, and all of the other contributors on our taskforces and in our classrooms.
Teresa Waddington, P. Eng
Director, Education Committee, PJVA
Email: teresa.waddington@shell.com
---
CO&O Task Force
The CO&O task force consisting of:
Tim Reimer, Enerplus
Lynda MacNeill, Encana
Nick Harris, Imperial Oil
Ib Moller, Gpmi
John Rothwell, ConocoPhillips
Crawford Hutchinson, Devon
Carrie Fyfe, Devon and
Jan McLean, Consultant, has been meeting on a regular basis during 2012. We have established our mandate for the model CO&O. This mandate is:
Keep the document "simple" so as to be applicable to a wider range of facilities without modifications
Writing for an 80% solution with recommended/suggested changes in the Annotations for more complex situations
Align with current Industry associations (CAPL, PASC)
Update to current legislation
We have considered all of the comments and suggestions that members have sent along with the input from the committee members themselves. We have formed several sub-committees that are directed to rework the respective sections of the model. These sub-committees are:
A. Head Document and Operating Procedure
B. Allocation Procedure
C. Measurement and Inlet Specifications
D. Structure/Sharing of the Joint Account
E. Accounting Procedure
F. Capacity Usage
G. Greenhouse Gases
H. Ownership Description & Map
I. Insurance
J. Environment
K. Midstreamer Friendly (Annotations)
L. Enlargement
M. ROFR's/Assignments/Change of OP /13th Month Adjustments
N. Financial Means
O. Misc Issues
The sub-committes will be chaired by a Task Force member and they will draw upon industry experts as required.
We will be aiming for the completion of some draft documentation during 2013 and will be seeking comments on the drafts via the PJVA website and potentially some Early Morning Sessions.
Martine O'Connor, Director, Task Forces
---
Luncheon Reviews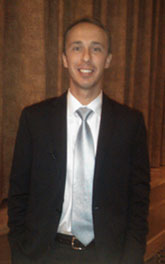 October 31, 2012 Luncheon - Vjotech Krb, The Hero Network
Former financial planner, Vjotech Krb, originally from Prague, got into advocacy for childens' safety by starting the Hero Network.
About 8 million children go missing around the world every year. The Hero Network utilizes the smart phone to assist in finding these children. It is simply a downloadable app that sends you an alert when children are listed missing. Even parents registered can send the alert to those on the network. This greatly empowers people in other countries that don't have reliable law enforcement.
This application includes statistical data but has very strict encryption codes to ensure security and privacy for those registered. No last names, address or phone numbers are ever required to register or use this app. There are no ads and it is free to receive alerts after the one-time $3.99 download fee, which is used to support the maintenance of profiles and distribution of the alerts.
This program will expand to 'Missing People' which would include the elderly, etc. and a 'Missing Pets' section so that it becomes an all-inclusive 'Family App'.
To download this app*, go to
heroes-nearby.net
(*app is not currently available for Blackberry).
. . . . . . . . . . . . . . . . . . . . . . . . . . . . .
November 20, 2012 Luncheon - Len Heckel, Quest CCS Project
Len Heckel gave a great overview on the Quest CCS project located in the Fort Saskatchewan area. The implementation of the Quest CCS will be equivalent to capturing the emissions of 175,000 cars. This project is a joint venture between Shell Canada Energy (60%), Chevron Canada Limited (20%) and Marathon Oil Corporation (20%). The capture portion of the project is currently under construction with foundation work expected for Q4 2012.
The purpose of the Quest CCS project is to reduce CO2 emissions from the Scotford Refinery Upgrader by up to 35% which would have otherwise been vented to the atmosphere. With Quest in place the CO2 will be pipelined to 3 well locations and injected into the Basal Cambrian Sands zone which is 2,300m below ground level. The pipeline system will be convoluted because the companies are trying to optimize the existing RoWs and are consulting with land owners in the area. For each injection well, there will be a monitoring well drilled a few yards away. The purpose of these monitoring wells is to check the air, soil and water to verify there are no CO2 leaks.
The total cost of the Quest CCS project is $1.4 billion. This includes the initial capital expenditures and 10 years of operating expenditures. The capital expenditure is made up of 80% capture, 10% pipeline and 10% wells. There will be government funding of $865 million, of which $120 million is coming from the federal government and $745 million is coming from the provincial government. The Quest project is expected to bring in $30 million worth of carbon credits. The remaining amount of costs will be covered by the three owner companies. This project benefits the environment by decreasing green house gas emissions by one million tonnes per year.
The Quest CCS facility is expected to be completed by Q4 2012. Pipeline construction begins Q3 2013 after the crop season ends. The companies are trying to encourage stakeholder engagement by holding bi-annual county and town council meetings.
---
Member Inspiration Requested!
2013 will be the
25th Anniversary
of PJVA's golf tournament. Please
visit the comment submission page
to provide your ideas on how to make this a special event!
---
eStudies and Web Based Learning
Do you have your sights set on Joint Venture Administration? Check out the
Introduction to Joint Venture Administration
course on PJVA eStudies! This course introduces learners to Joint Venture Administration and the way in which Joint Venture Agreements are revised and maintained.
---
Looking for a New Opportunity?
Check out the
PJVA Job Board
for recent postings.
---
PJVA LinkedIn® Group
PJVA is now on LinkedIn®, the world's largest professional network. It's a great way to stay connected and exchange ideas with other PJVA members and industry professionals.
Click here
to join the discussion!
---
PJVA was incorporated in 1985 to represent individuals and organizations involved in petroleum joint ventures.
JVViews
is published to keep members informed about upcoming PJVA and industry events, courses and seminars offered and/or sponsored by PJVA and current projects being facilitated by the Association.