JVViews: April 2013 Issue
PJVA March Luncheon Review
April Pub Night Networking
2013 Gas Handling Agreement Now Available!
2013 PASC Education Day
eStudies and Web Based Learning
Looking for a New Opportunity?
PJVA LinkedIn® Group
---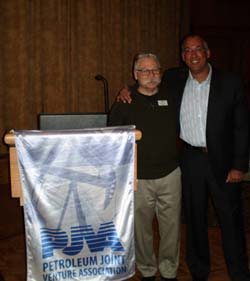 PJVA March Luncheon Review – How Are Your Joint Venture Partners Doing
PJVA Luncheon
March 21, 2013

Speaker: Don Bannerman
Don Bannerman gave a great presentation on evaluating the financial health and future of your Joint Venture partners. Companies need to focus on understanding the macro environment that we live in. We need to look at how commodity prices are changing, what is impacting the resources we use and how technology is playing a part in all of this. By asking yourself these questions and preparing for the future you can evaluate the future of your Joint Venture partners.
Don gave us a quick overview of how the market has changed. The capital spent to drill Canadian wells has gone up, but the number of wells has gone down. We drilled 22,700 wells in 2004 and only 11,100 in 2011. This increase in cost per well is due in part to cost inflation and more technically complicated drilling programs. It has become cheaper to borrow money since the Canadian short term interest rate is at 1% but credit standards have been tightened, therefore making it harder to borrow money. There has been an increase in producers chasing liquid-rich gas which has increased the supply but driven down the price. This has caused downward pressure on the economics of these wells.
Some of the key indicators Don spoke about when planning for the future of your company are:
Preparing for what commodity prices are expected to be.
Evaluating what the competition for resources is going to look like in the future so your company can plan for your capital projects accordingly. Capital has rebounded to an all-time high since the "Financial Crisis" of 2008.
Realizing what the environment is going to be like so you can expect what the operating costs are going to be. Operating costs have gone up by 10%/year since 2004.
Lastly calculating whether your partners are generating enough cash flow required to sustain their operations with you.
The data to calculate the debt to equity ratio can be found on the company's website, SEDAR and by using the company's stock information.
Currently commodity prices are flat to decreasing; resources are becoming harder to gain since the petroleum industry is competing with the oil sands industry and it is becoming harder to access the debt markets. All these factors come into play when evaluating whether to enter into a Joint Venture.
Don's presentation is available on the PJVA website for those who wish to download it and possibly use some of the information contained in it to evaluate the financial health of some of your joint venture partners.
Don's charity of choice is the Calgary Food Bank.
---
April Pub Night Networking
April 24, 2013
4:00 pm
The Unicorn - 304 8 Ave SW

Please be advised that The Unicorn will accept cash & carry or separate bills (individuals will need to provide a credit card).
If you can no longer attend the event after RSVP, please email pjva@pjva.ca to cancel, so that appropriate seating can be arranged with venue.
A great opportunity to mingle with your peers, find a mentor, or get to know industry if you're new!
Please
click here
to RSVP so we have an idea of numbers.
SEE YOU ALL THERE!!
---
2013 Gas Handling Agreement Now Available!
The "Gas Handling Agreement" has been updated. To order the 2013 version online, please go to
https://pjva.ca/agreements/descriptions.php
---
2013 PASC Education Day
Thursday, May 9, 2013
8:00 am Registration
Marriott Hotel
110 - 9 Avenue SE

The PASC 2013 Education Day will be held on Thursday, May 9, 2013 at the Marriott Hotel in Calgary. Registration for this one-day conference can be done online at
https://securegs.com/pasc/
. The theme for this year is "Leading Through Knowledge".
Space for this event is limited – you are encouraged to register soon in order to secure your spot.
Our luncheon keynote speaker will be Devon Canada President Chris Seasons speaking on "Leadership and Challenges Facing the Industry". We are also pleased to present a second keynote speaker, Canada's best-known Conservative pundit Ezra Levant, who will be presenting on his latest bestseller, Ethical Oil.
---
eStudies and Web Based Learning
Need a refresher on drafting or working within a CO&O? Sign up for PJVA's e-Studies CO&O course to familiarize yourself with parts of the CO&O you may not encounter in your day-to-day and hone your understanding of the commercial aspects that can impact your project or operation. Do you know someone who would benefit from learning more about the CO&O that governs their asset or operation? Direct them to the
PJVA eStudies home page
to learn more!
---
Looking for a New Opportunity?
Check out the
PJVA Job Board
for recent postings.
---
PJVA LinkedIn® Group
PJVA is now on LinkedIn®, the world's largest professional network. It's a great way to stay connected and exchange ideas with other PJVA members and industry professionals.
Click here
to join the discussion!
---
PJVA was incorporated in 1985 to represent individuals and organizations involved in petroleum joint ventures.
JVViews
is published to keep members informed about upcoming PJVA and industry events, courses and seminars offered and/or sponsored by PJVA and current projects being facilitated by the Association.