June 2017
President's Note
Editor's Note
May PASC/PJVA/GPAC Joint Luncheon Summary
Spring Pub Night Summary
28th Annual Golf Networking Event Summary
June Luncheon Summary
Stampede Breakfast
September Luncheon
A&D Agreements, Official Dates
and 13th Month Adjustments
Contracts Corner
PJVA Membership
---
President's Note
As we near the start of the fourth year since oil prices dropped, the strain on our industry and our individuals is clearly taking its toll. We all know people who have been without work, some for many years now, and the reduction in the Calgary workforce is evident in everything from traffic, to parking, +15 crowds, empty offices, empty floors and empty restaurants.
When we began the 2016-2017 year, we took a moment to remember that our first responsibility as the PJVA Board is to steward the legacy that decades of PJVA members have passed on. So at the start of my term as PJVA President, I focused on the same things that all diligent leaders are at the moment; controlling current capital costs while finding new ways to lower risk and continuously reduce opex. The first thing we executed on was an across the board capital budget reduction, which all the Directors quickly executed on. Then we did what JV does best, we reached out to other industry associations like PASC, GPAC, IIA, CAPLA, etc and together hosted joint events that allowed all partners to share the capital risk and opex of the event, while concurrently increasing the potential attendance as we marketed to the memberships of all the associations. And yes, before you ask, of course we formalized it in an agreement! I'm very pleased to report that a multi-year decline in the PJVA's balance sheet due to the downturn, has been halted, and reversed! This is due to the core qualities of the PJVA, working together in a uniquely Canadian way to succeed together.
The 2016/17 PJVA Board has been an outstanding team. It's truly been an honor to work side by side with them, and I am privileged to call them colleagues and friends. We serve almost 700 members, with 16 Directors and over 100 volunteers working on all our activities. They manage luncheons, early morning sessions, various task forces, the JV Certificate Program, one day seminars, JV Administration portfolio, our legal group, strategic advisory group, annual joint conference, membership, social activities, marketing and of course, this very newsletter. If you ever get a chance to see the PJVA org chart, it's truly humbling! However, we're not simply treading water. After a huge amount of work the JV Certificate program will relaunch this fall at SAIT, and as you might have picked up from the recent survey, we are in the thick of evaluating moving forward with a PJVA Mentorship program.
I want to thank the membership for their support of our activities by attending and volunteering; especially as so many companies are not allowing the events to be expensed. The stability and involvement of our membership has been outstanding! There are other associations that are on the verge of closing their doors, and I am VERY proud to say that PJVA is strong, committed, and will continue to work for you, the members, for years to come.
Thank you for allowing me to lead this incredible team, it has truly been an honor!
Josh Carter P.Eng
2016/2017 PJVA President
---
Editor's Note
As you may know, the PJVA business year is July 1 to June 30, so this is the final newsletter for the 2016-17 year. We take the summer months of July and August off, with no PJVA events scheduled, so there will be no early morning sessions, luncheons, seminars or networking events until we reconvene in September. Once again, there has been a lot of activity with PJVA this past year, which you can read about in the President's Message from outgoing President Josh Carter, as well as other articles in this newsletter. We hope you were able to attend some of the PJVA events and activities and that you found them useful and enjoyable. Have a safe, happy and fun-filled summer; we look forward to reconnecting with you in September.
And now, your Oil Industry Tidbits for the year 2002:
2002 (Jan)
Experimental gas hydrate project at Malik in the McKenzie Delta by an industry/government consortium.
First oil production from Terra Nova, Grand Banks (east of Newfoundland) using a floating production platform system.
2002
AEC and PanCanadian merge to form Encana Corp.
Canadian Society for Unconventional Gas is founded.
2002 (Feb)
Chevron Canada decides not to develop the Hebron - Ben Nevis fields off Newfoundland (the oil too heavy).
PCP announces the first sales of coalbed methane production in Canada from their experimental projects in Southern Alberta.
2002 (June)
Encana announces discovery of the Greater Sierra Jean Marie trend in NEBC.
2002 (July)
Talisman announces first deep Paleozoic gas discovery in BC Foothills (at Monkman Pass, below Triassic production).
2002 (Aug)
Encana announces plans for first commercial coalbed methane project in Canada.
2002 (Sep 2)
Jean Chretien announces Federal Government's intent to ratify the Kyoto Agreement.
2002 (Sep 2)
Canadian Natural Resources (CNR) announces they may move their heavy oil upgrader to the US if Kyoto signed.
2002 (Oct)
Saskatchewan reduces royalty rates to attract new activity.
2002 (Dec 10)
Federal government ratifies Kyoto Agreement.
Nexen to delay Long Lake Oilsands project.
2002 (Dec 30)
First production from Athabasca Oil Sands Project (AOSP) Muskeg River Mine owned by Shell, Chevron and Western Oil Sands Ltd.

Kent Black
2017 PJVA Publicity Director
---
May PJVA/GPAC/PASC Joint Luncheon Summary
May 24, 2017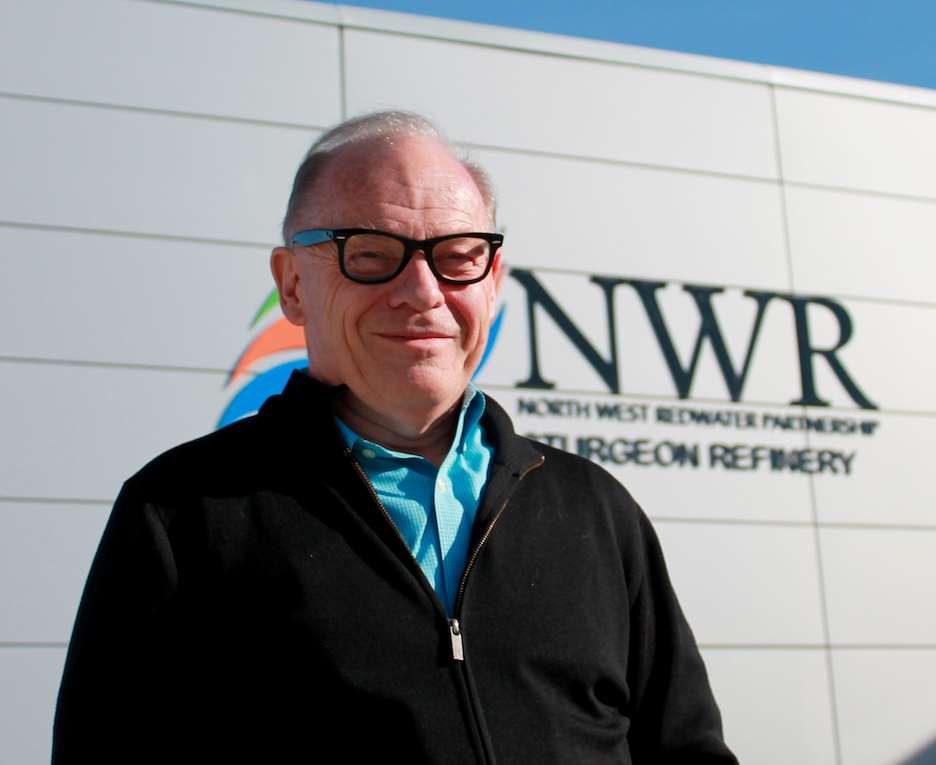 Carbon Capture, Storage and EOR – NW Redwater's Sturgeon Refinery & the AB Carbon Trunk Line the world's largest carbon capture and storage project
The PJVA Luncheon Series on May 24 featured speaker Ian MacGregor, Chairman of Enhance Energy Inc. and Chairman of North West Refining Inc. talking about the NWR Sturgeon Refinery and the Alberta Carbon Trunk Line. Together, these projects will be the world's largest carbon capture and storage project.
Ian MacGregor is a captivating speaker as his roots in the industry go back to his great grandfather arriving in Alberta from Idaho to work in Turner Valley. He's seen the growth of many Alberta companies (including his own).
He detailed the growth of Enhance Energy's expertise with gas processing and the purchase of 11% ownership in the Weyburn Unit where he got exposure to EOR using CO2. He saw early on the need to develop safe Canadian sourced CO2 for EOR and Sequestration. As mentioned in the luncheon, Carbon Sequestration is safe as CO2 is reinserted at normal reservoir pressure.
His vision of the Sturgeon Refinery came out of the realization of bitumen's challenges:
It's not high value,
It has inherently high CO2, and
It has just one market to go to, which is not paying the highest prices.
His solution:
Build a refinery and refine bitumen so that it has greater value.
Ship it to other markets with less cost.
Recover the CO2 for use in EOR in Alberta.
Ian's value proposition for bitumen is direct.
"When you send a barrel of diesel you're essentially sending 3.5 times as much economic value as when you send a barrel of [diluted bitumen] through that same system. Diesel is currently worth about $100/bbl while bitumen is worth about $35."
As Ian detailed, the NWR Sturgeon Refinery is unique in that it is a big part of the world heavy oil refining capacity, it is the first refinery to be built in 30 years and it has an integrated carbon capture and storage (CCS) system. The refinery – along with Agrium, a fertilizer facility adjacent to the site – will capture almost 5,000 tons of CO2 per day.
The NWR Sturgeon Refinery and Alberta Carbon Trunk Line project is enabling Alberta to produce and refine bitumen while managing GHG emissions. At full capacity this project is capable of storing 14.6 million tonnes per year, the equivalent of removing every car in Alberta off the road. As Ian described, the two projects are part of Alberta's diversification future.
For the members who were unable to attend, a short video presentation can be found here
---
Spring Pub Night Summary
May 25, 2017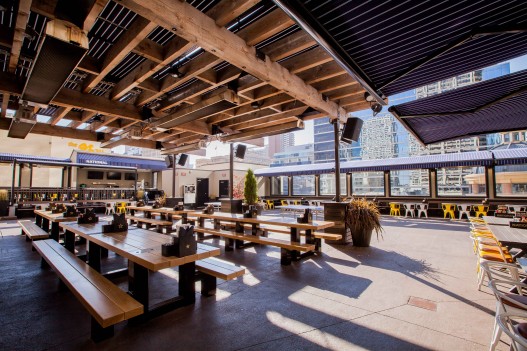 Stay connected and network!
The Spring Pub Night, the last Pub Night of the season, was held on May 25 at the National rooftop patio with approximately 25 members attending. On behalf of the PJVA, thank you to all members who took time out of your busy schedules to attend the PJVA pub nights.
We had really good turnouts again this year and were able to host these events throughout various pubs within the downtown core.
Have a great summer everyone and we'll see you again in the fall!
---
28th Annual Golf Networking Event Summary
June 8, 2017
The PJVA Golf Committee would like to thank all PJVA Members and associates for coming out for a beautiful day at Inglewood Golf and Curling Club on June 8th. It was a great day for golf with close to 70 golfers in attendance.
In order to prepare for an even better event next year, we would love your feedback on what was great, or could have been done better.
Click here to provide feedback
PJVA appreciates your time!
Thank you to all sponsors and congratulations to the winners below:
Platinum Sponsors

Associations Plus Inc.
BaseCorp Learning Systems
AltaGas
Crescent Point Energy Corp.

Gold Sponsors

Burnet, Duckworth & Palmer
Gowling WLG
Integrity Audit & Accounting Ltd.
JVSA
KCAV Productions
Repsol Energy Canada

Skills Prize Sponsors

Enerplus
Bartier Brothers
JVSA
KCAV Productions
Pandell Technology Corp. for our drink hole!
2017 Tournament Prizes
Door Prizes

Sponsored/Donated
Winner
Early Bird registration
Delta Lodge Kananaskis –
1 night stay
Claire Basinger
Home Outfitters gift card
PJVA
Nicole Yackulic
Q Haute gift card $50
Q Haute
Scott Wolfson
Crystal Ridge golf course gift certificate
Gord McLeann
Crystal Ridge golf course gift certificate
Dale Pederson
Proshop gift card
Helen Forero
Q Haute gift card $50
Q Haute
Geoff Ferguson
PJVA 30th Anniversary Picnic chair/cooler
PJVA
Sonya Hopkins
PJVA 30th Anniversary Picnic chair/cooler
PJVA
Scott Beasely
Wine kit
Enerplus
Mike Kitchen
Wine kit
Enerplus
Stefan Dimic
Emergency kit
Enerplus
Nick Duckett
Emergency kit
Enerplus
Dave McLellan
Skill Prizes

Prize
Donated by
Winners
Closest to the Pin – Men's
Two bottles of wine
Bartier Brothers
Steve Bosma
Closest to the Pin – Women's
$200 Nevada Bobs gift card
KCAV Productions
Cheryl Pritchard
Team Prizes

Prize
Winners
Most Honest Team
$55 proshop gift cards
Tracey Moore-Lewis, Wendy Barber, Chris Alexander
Top Team #3
4 blankets (Enerplus)
Erin Wilson, Graham McLennan, Archie Christopher, Brian Ceelan
Top Team #2
$55 proshop gift cards
Bill Wells, David Carter, Myles Blust, Dave McLellan
Top Team #1
$55 proshop gift cards
Amy Oliverio, Murray Jackson, Mike Kitchen, Geoff Ferguson

Mulligan Prize

Prize
Winners
50/50 Draw
Mulligan Sales $285
Gord McLean, Murray Jackson (Winners receive a tax receipt of $142.50 each!)
Committee Members

Company
Scott Wolfson,
Social Director on the Board
Whitecap Resources
Simone McKay
Bellatrix Exploration
Julia Kugelmass
Crescent Point
Chris Moody
Cenovus
Jonathan Cassetta
Encana
Graham McLellan
Crescent Point Energy
Scott Renneberg
Apache
---
June Luncheon Summary
June 12, 2017
The PJVA Luncheon Series on June 12 was about The Third Wave of Digitization in the Oil and Gas Industry with a discussion of the Industrial Internet of Things. Our speaker was Brad Bechtold, the National Director of CISCO Canada's Oil and Gas and Mining Digital Transformation.
Brad started his talk with a discussion of the effect of missing tipping points. He discussed how between 2000-2010, Netflix eclipsed Blockbuster as Blockbuster was unable to read trends and see the need for digital transformation. He observed how oil and gas companies must reinvent themselves and that digital technologies are important to this reinvention. The mid-2014 oversupply and downturn in oil and gas has created a situation where Canadian oil and gas is uneconomic. Companies are looking to digitization to become competitive again.
So we are seeing the implementation of the following:
Internet of Things (IoT)
The inter-networking of physical, connected, smart devices, vehicles, buildings, and other items embedded with electronics, software, sensors, actuators, and network connectivity which enable these objects to collect and exchange data.


Cloud Computing
Internet-based computing that provides shared computer processing resources and data to computers and other devices on demand.


Edge Computing
A method of optimising cloud computing systems by performing data processing at the edge of the network, near the source of the data.
These elements create very powerful cost savings for Industry and are connecting the physical world. In the next five years, we will see connected cities and countries driving down operating costs by 15-30%. Why didn't the IoT get implemented ten years ago? Devices, storage, network speed and cost of computing have drastically come down in price; they are underpinnings of the IoT.
One of the benefits of IoT is in the change from traditional to digital analytics:
Traditional approach
Get data, move it across a network to a central place, do some manual analysis on it, make a decision and then store/destroy it.


New IoT approach
The collection and analysis will be done in real time at your devices (smart devices, eg. routers with IBM Watson analytics platform) so you move the results of the data not the data itself.
There are huge upsides to digital tech for oil and gas; fibre optics in pipelines is one example. For pipelines, fibre optic sensors enable pipelines to be a source of drastically improved security, environmental responsibility and even community connectivity, improved community services like remote healthcare, remote education etc. as well as the cost reduction potential.
For the members who were unable to attend, Brad's presentation can be found here
---
Stampede Breakfast
July 12, 2017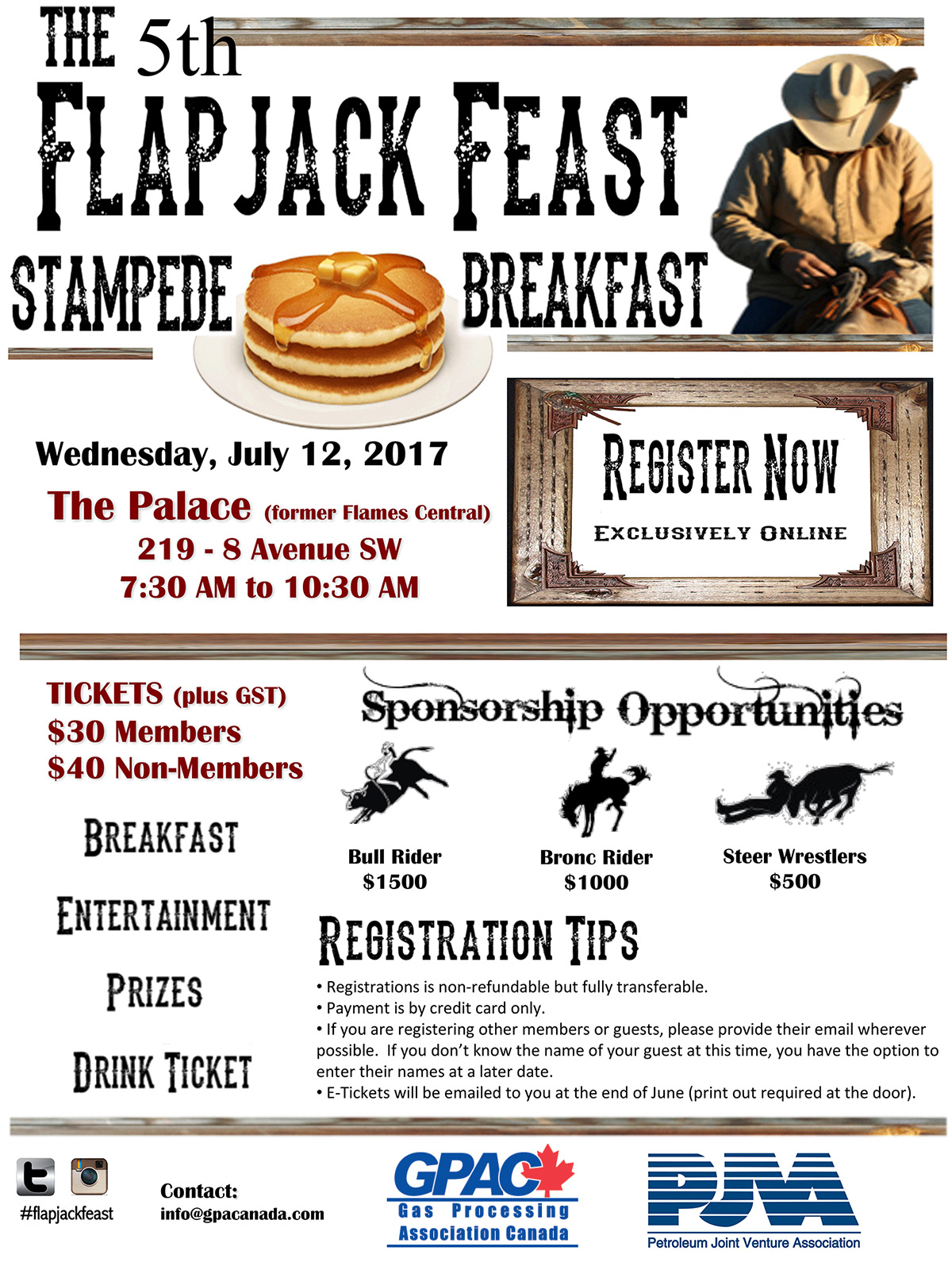 Date
July 12, 2017
Time
7:30am – 10:30am
Location
The Palace
former Flames Central
219 – 8 Ave SW
---
September Luncheon
September 13, 2017
Pipelines, Carbon, the Price of Oil and Alberta's Future — Analysis of Significant Developments
Dennis McConaghy
Commentator on Energy and Carbon Policy, Retired Enbridge Energy Executive, and Author of the book Dysfunction: Canada After Keystone XL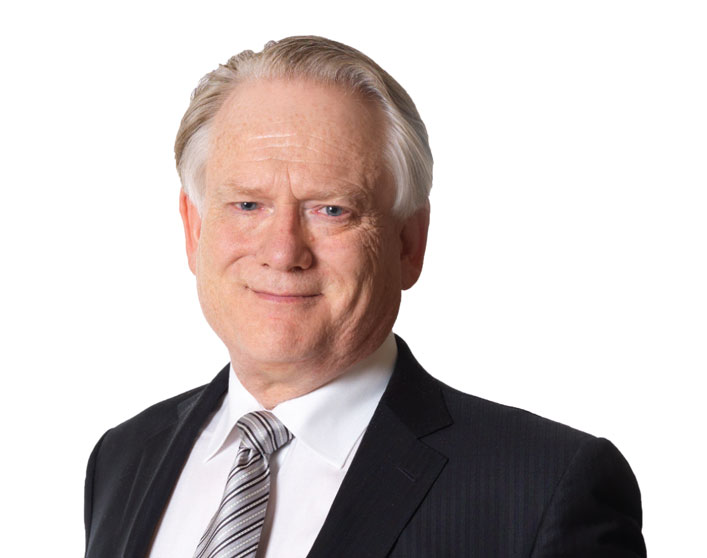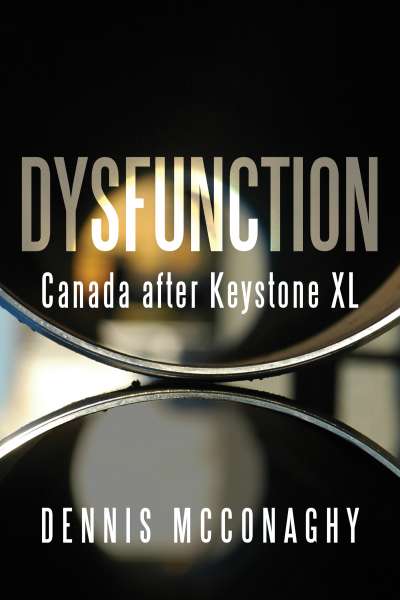 Dennis McConaghy is a Canadian energy executive with nearly forty years of industry experience in infrastructure development. He has engaged in the evolution of Canadian energy and climate policy over thirty years, from the National Energy Program of 1980 to the Paris Climate Conference of 2015. As one of the senior executives of TransCanada Pipelines, he was directly involved in conceiving and executing the Keystone XL pipeline project. He is also a visiting fellow at Western University's Ivey Business School and Author of the book Dysfunction: Canada After Keystone XL. He lives in Calgary.
Dennis McConaghy discusses the current climate for pipelines in Canada including implications for Canada from Trump's withdrawal from the Paris Climate Accord, the implications of the change in government in British Columbia for Canadian hydrocarbon infrastructure and development and more.
Date
September 13, 2017
Time
11:30am – 1:00pm
Location
The Bow Valley Club
250 – 6 Ave SW
Dining Room
---
A&D Agreements, Official Dates and 13th Month Adjustments
Oil and Gas acquisitions and divestment (A&D) transactions carry with them a complex series of dates by which we recognize and handle the obligations and transactions within A&D.
For a long time in our industry A&D deals have had an aura of confusion surrounding the three main dates used, those being Effective Date, Binding Date, and Closing Date. Experience in this industry has not led to a clear understanding how each date is applied across the industry, and we recognize that each department in each company has a different view of which date to use and when to use it.
The increase in divestment activity over the past two years has brought this issue back to life with questions concerning certain situations where facility owners purchase custom users (also known as a third party or a non-owner) and retroactive adjustments in regards to the 13th Month (throughput adjustments) are made, or at least requested/proposed, after the Closing Date.
Here are some terms to understand:
Effective Date
The date upon which the parties agree that the financial businesses, subject of the transaction, belong to the purchaser and it is when the purchaser first carries the load of ownership.

Binding Date
For JV (CO&O and Unit) Agreements, the Binding Date is always "the first Day of the Month next following the date a copy of the instrument, executed by both the disposing Owner and its assignee, evidencing such change in ownership has been delivered to Operator".

Closing Date
The date when the deal closes (signing, conveyance). At the closing, all agreements between purchaser and seller are finalized, documents are signed and exchanged, money passes to the seller, and title to the property passes to the purchaser.

Adjustment Date
The date on which financial adjustments will be made to a contract or transaction, as agreed to by all the parties involved in the transaction.

Interim Date
The date encapsulating a period of time when one company temporarily assumes the duties of another.
Due to the high volume of transactions occurring in Industry, the PJVA Board receives many queries from anonymous industry people with a variety of questions. They often arrive as "I have a friend who is in need of help answering a question". One scenario in particular made its way to the Board and a request for guidance was made. Without knowing all the background details of what arrangements were made, here is a snippet of that scenario.
Background
Owner A bought the interests of a custom user with a 5-8 month retroactive Effective Date. The Operator of the facility has done a revision of the throughput adjustment calculations and is going back to the Effective Date of the deal and showing these custom volumes now as owner volumes and therefore clawing back all the capital revenue from all owners for that period.
There are 3 owners in this facility. So owner A is paying a portion of the claw back, but is also receiving the credit for all the custom fee reversals. The Operator is also taking a hit on this retroactive throughput adjustment.
Question from One of the Owners
Where can I find in the JV agreements that this action is permitted or is there an industry document that indicates this is common industry practice? We are trying to set up a meeting with the operator to discuss the proposed action.
This appears to be more than a simple which date is the correct date to use question. After some research it was determined that there is no industry guidance or case law that we were able to find to support retroactive changes to 13th Month Adjustments. In fact, the A&D agreements, which only one owner signs, should not be taken as presiding over the governing facility agreement which all Owners have signed and abide by. The A&D agreement, in this case, is between one of the facility owners and a custom user of the facility and therefore should not enhance, at the cost of all other Owners, the purchasing Owner's position.
Current PJVA curriculum demonstrates that many joint venture agreements require that after each year end the facility operator reallocate the variable operating cost, the revenue from processing third party gas and the revenue from handling that portion of an owner's gas that is in excess of its owned capacity in the facility on some other basis (as specified in the relevant joint venture agreement). The reallocation process is referred to as a 13th month adjustment.
The general concept looks like this:
The Operator initially pays all costs incurred for the joint account. He then bills the other Owners and they reimburse the Operator for their share of the capital costs and fixed operating costs in proportion to each Owner's facility participation (ownership). Usually, the Owners' share of variable operating costs is billed monthly based on the Operator's estimate of each Owner's yearly volume of production through the Plant or Facilities. This goes on each month, for a calendar year. Similarly, processing fees will be charged to third party users based on total facility estimated costs and throughputs for the year.
Once the year-end review is done, it may be that the Operator either owes the other producers money or vice versa (it's like doing your taxes!). This is why it's so important to follow your costs and throughputs regularly to try and charge appropriate throughput costs to your partners and processing fees to third parties, in order to minimize the difference between the estimated costs and the actual costs.
Basically, PJVA doctrine specifies that on the Effective Date of an A&D transaction the new Owner assumes all, the rights and obligations of the old party. In addition, the CO&O Agreement applies to all joint venture partners who have signed the Agreement. In this case, the new party would become an Owner as at the date they executed the counterpart execution pages.
CAPL has also written several articles in regards to which date to use and when to use it. We looked at the December 2016 issue of The Negotiator article titled NOA To Be or Not To Be Effective on This Day! (written by Michelle Radomski, with thanks to Paul Negenman, Jim Maclean and Lynn Gregory) which talks specifically about Binding and Transfer Dates and the purpose of an NOA/A&N in regard to governing agreements. The NOA or the A&N are not governing agreements but merely contractual instruments used to accomplish certain tasks in changing ownership of something. It is the Binding Date that is the trigger date where the Assignor is no longer recognized under the governing agreement. It is expected that the Assignor and Assignee negotiate any adjustments between themselves prior to the Binding Date.
Similarly, PJVA documents do not contemplate the same process, if you will, for the transfer of responsibility from Assignor to Assignee under the governing CO&O (1996 / 1999 models) Agreement. The annotations mention to the CO&O drafter that they can choose between several scenarios under the Appendix titled Structure and Sharing of the Joint Account, Operator shall, within one hundred and eighty (180) Days of the end of the preceding year adjust the distribution of the costs, fee income and Surplus Capacity. The CO&O doesn't contemplate the thought of retroactively changing previously custom user volumes to Owner volumes and reworking 13th Month Adjustments whether per an A&D contract or not. It should also be noted that Excess usage fees could also be classified in the same manner as the 13th Month Adjustments and can be thought of and dealt with in the same fashion.
Typically accounting groups will utilize the Binding Date (1st day of the month following notification) for changing over responsibility from Assignor to Assignee. Therefore, it is maintained that in Joint Venture when the responsibility for bills and payments changes hands the Binding Date is viewed as the official transfer of responsibility from one party to another.
It would be nice if this were a best industry practice and fair accounting procedure for an operator of a facility to not allow such retroactive custom user agreements to impact owners retroactively. What is an acceptable retroactive period for such NOA's? The operator has to be looking out for the best interest of all owners in a situation like this, and perhaps there needs to be something at the industry level to detail such occurrences as unacceptable practice. It should be noted that an owner making such agreements with custom users need to make the Effective Date as current as possible or be prepared to take on the economic impact made to other owners without notice given in advance.
Grant Feddema
Director, Task Forces
Tracey Moore-Lewis
Vice President
Disclaimer
This article is not the express opinion of PJVA or its Board of Directors and merely shows details surrounding actual scenarios and possible outcomes for those scenarios discussed above.
---
Contracts Corner
Issuing Mail Ballot Results: Clause 204(k)(ii) of the 1999 Model CO&O Operating Procedure states "Operator may, without calling a meeting, call for a vote on any matter by submitting such matter, together with reasonable details regarding the same, to each Owner by mail ballot notice. Each Owner shall, by notice to Operator, cast its vote within fifteen (15) Days from the date of deemed receipt of such mail ballot notice by the Owners. Operator shall promptly notify the Owners of the results of such vote after the expiry of such fifteen (15) Day period."
Interpretation of this clause can be ambiguous with respect to the word Owners if there are Functional Units within the CO&O. If a Mail Ballot is issued for a Functional Unit, where the participation is different than the overall Facility Participation, it is sent only to the Functional Unit Participation Owners for approval. However, as a general best practice, the Mail Ballot results letter is to be issued to the overall Facility Participation Owners and not just the Functional Unit Participation Owners. Issuing the results letter to the overall Facility Participation Owners keeps all Owners apprised of the activities at all the Functional Unit levels governed under the Agreement and provides the non-participating Owners with a record of all Mail Ballots number sequentially.
Coming Soon
Coming very soon are the Mail Ballot Template Letters. Please stay tuned for this exciting new addition to the suite of Administration Portfolio template letters, which are already available for use.
Ask a Question/Feedback
Do you have a question about an agreement? Do you constantly get stumped with the same Agreement clause? Do you have something to share about a unique contractual situation you have dealt? We want to hear from you.
Please send in your questions or feedback to admin@pjva.ca.
---
PJVA Membership
Renew your membership
Don't forget to renew your PJVA membership for the upcoming year!
PJVA's annual membership fees are amongst the lowest within the oil and gas sector compared to some of our peers such as CAPL. PJVA membership provides great value for networking, social events, luncheon speakers, JV agreements and documents, membership directory etc. Attending the Annual Christmas Social alone, which is complimentary, can pay for 1⁄3 of your membership!
---
Upcoming Events
July 12, 2017 – 5th Flapjack Feast – Stampede Breakfast
September 13, 2017 – September Luncheon
September 19-20, 2017 – JV Agreements Seminar
September 26, 2017 – JP05 Workshop Seminar
September 28, 2017 – JV Accounting Seminar



PJVA was incorporated in 1985 to represent individuals and organizations involved in petroleum joint ventures. JVViews is published to keep members informed about upcoming PJVA and industry events, courses and seminars offered and/or sponsored by PJVA and current projects being facilitated by the Association.