---
March Luncheon
Crude by Rail - Capacity, Economics, Markets and Innovation
At our March 21st Luncheon, PJVA hosted Mr. James Cairns, the Vice-President Petroleum and Chemicals at CN Rail with a presentation on "Crude by Rail - Capacity, Economics, Markets and Innovation"
As our Industry lobbies for pipelines, the rail options that are being developed by CN, Sproule and Wapahki Energy are an engaging story. James Cairns began his talk with a reference to the many pipeline delays that we've experienced while rail lines are existing and ready to go. He pointed out that CN Rail has three-coast access and that CN is the only rail carrier servicing three major petrochemical centres in North America; the Alberta Heartland, the U.S. Gulf Coast and Southwestern Ontario. They connect with 23,000 railroaders and 20,000 route miles are in operation with over $250 billion worth of goods moved annually of which Petroleum & Chemicals represents 18%. He also stated that rail is both a niche play for heavy production and a geographic play for small producers. He commented that the biggest disadvantage to heavy production is the economic disadvantage created by addition of diluent.
Pipelines solved the viscosity problem of heavy production by diluting bitumen and creating a new supply chain. However, as pipelines ship Dilbit, refineries just buy bitumen. Dilbit shipped by pipeline is unfortunately only 70% bitumen. Rail is competitive with pipeline if that diluent is removed. We all know too well that as pipeline capacity becomes limited – market access is also limited.
Rail, however, is moving production today and will be required into the future. Rail has in effect become part of the long-term solution. If rail is part of the long-term solution, it makes sense to remove the diluent. If diluent is removed at the terminal hub and sold back to the pool in Edmonton, rail bitumen presents a 30% savings vs Dilbit.
Cairns pointed out that two years ago, the industry did not foresee the current delays and issues and was betting on pipeline capacity. There was no sense in building diluent recovery units. However, with DRUs, rail can solve the same two problems that the Trans Mountain Expansion was intended to solve. If you add solidification of bitumen to DRU use, solidified bitumen provides further transportation savings.
Cairns explained that a 50KBPD DRU will reduce transportation costs by approximately $100M per year. Adding a CanaPux plant on the back end of the DRU both reduces inland transportation by another 15% or $50M per year and creates market optionality. He asserted that with CanaPux, you can achieve a total inland freight savings of about 45% vs Dilbit (30% from DRU + 15% CanaPux).
He also detailed the characteristics and advantages of CanaPux:
CN polymer solidification and re-liquefaction process developed with InnoTech Alberta
Recycled plastics used in core and shell
Process does not degrade heavy crude
Creates 'Pux' that are easy to transport
Uses dry bulk supply chain
Pellet characteristics:
Solid
Floats in water
Not volatile / Doesn't burn (under 148o C)
Can handle 50m of compression
Weatherproof
James Cairns also mentioned the transportation savings of using lighter, cheaper aluminum gondola cars which carry ~690 barrels and are in ample supply and can be leased at $200-$300 a month compared to the more expensive DOT 117 tank cars which carry ~585 barrels and lease for over $1000 a month. A further consideration is that tank cars will be subject to the Tank Car Fleet Phase Out/Retrofit deadlines set by Transport Canada.
A further advantage of implementing DRUs is that a DRU creates a cost-effective rail product which may be either converted to CanaPux or shipped to the USGC for blending and potential export. Added to the advantages of solidified bitumen is the environmental aspect of a global market for non-combustion uses of polymerized bitumen. Wapahki Energy of the Heart Lake First Nation wants to further bolster the environmental aspects of CanaPux by supplying the polymer that goes into CanaPux from a polymer recycling facility that they intend to build. Jeff Paquin, CEO Wapahki Energy was in attendance and mentioned in an earlier interview, "This is a waste solution for plastics. For every 10,000 barrels of CanaPux we produce a day, we would be diverting from the landfill, plastics with the equivalent of 125,000 tonnes of GHG emissions a year."
PJVA looks forward to hearing more from James Cairns on CN Rail initiatives and CanaPux in the coming year.
Sponsored by

Maureen McCall
PJVA Director- Programs-Luncheons
---
February Energy Conference Network Events
3-day Energy Conference Network events that took place from February 12 to 14 at Hotel Arts. The PJVA had an exhibitor booth for all three days.
February 12 – Blockchain in Oil & Gas Canada
Among other things, a blockchain involves an open ledger that records transactions between parties in a verifiable and permanent way. The system timestamps all transactions and holds transparent records and information like contract details, supply chain data and digital signatures. The conference speakers explained how blockchain technology can benefit the oil and gas by expediting invoicing activity and reducing accounting errors and disputes.
February 13 & 14 – IoT in Oil & Gas 2019 Conference
The internet of things (IoT) is a system of interrelated computing devices that provides the ability to transfer data over a network without requiring human-to-human or human-to-computer interaction. The speakers gave examples of how IoT can enhance field safety, reduce costs, and capture quality data for business analytics.
While the majority of registrants were from the IT profession and were unfamiliar with the PJVA, several fellow exhibitors approached our booth and expressed interest in exploring ways to collaborate with the PJVA. In particular:
CGI
Nicole Eitzen, Senior Consultant (nicole.eitzen@cgi.com)
CGI is Canada's largest IT service provider, with expertise in areas such as transportation, cyber security and digital transformation. Nicole is interested in knowing more about our members' needs and the potential of providing applicable IT education to the PJVA.
University of Calgary, Schulich School of Engineering
Terry Ross, Research Partnership Specialist (rosstj@ucalgary.ca)
Terry also works for an organization called YYChain Innovation Association, which specializes in blockchain research and ecosystem development. Terry sees blockchain potential for transactions related to PJVA agreements. It sounds like some Calgary-based oil and gas producers have already adopted blockchain technology, and Terry believes more education would benefit the PJVA membership.
Supply Chain Management Association
Arnold D'souza, Business Development (adsouza@scmaab.ca)
As more JV professionals broaden their horizons to include other disciplines, such as commercial development, marketing, logistics and the like, Arnold encourages PJVA members to become familiar with supply chain management. SCMA is looking to find areas of mutual interests with other associations.
I would be happy to provide more details on the conference and the potential to collaborate with some of the organizations that attended.
Bradley Hodges
PJVA Conference Director
---
Special Edition EMS – Lunch & Learn review
Hosted by Enerplus Corporation on March 26th (much appreciated by the PJVA), this was the first of possibly many more of a new concept of PJVA gatherings. Bring your lunch and Learn is the new concept. The new concept was widely approved of and appreciated by every attendee.
The presentation was hosted by Lynda MacNeill and Paul O'Gorman, who also both encouraged questions from the participants and answered all of them.
The title was "Charging fees for Processing and Transportation – Land or JV?"
During every stage of the entire process (Upstream, Midstream and Downstream) there is a situation and time for the variety of JV and Land agreements. The presentation and discussion mostly covered the JOA, CAPL Operating Procedure(s), and the GHA.
That which remains clear to this attendee (and was confirmed) is that all related Land and JV agreements should be reviewed, analyzed and negotiated appropriately clearly and calmly by all WIOs, whether the party is an operator or a non-operator. Doing so responsibly should lead to industry-wide efficiency gains.
Peter Mitchelmore
PJVA Newsletter Editor
---
JV Certificate Program Volunteers are required!
Details:
Volunteers are required for the JV Certificate Program as follows:
Course Coordinator - JV Agreements course
All course review committees
Amount of time required:
These are longer term commitments – ideally, you will be ready to stay in the role for 1 or more years.
Time per week:
2 – 5 hours/month, varying based on work required and number of committee members available
Experience:
JV Agreements Course Coordinator:
5+ years' progressive experience and have completed the JV Administration Certificate program, OR
5+ years practical and progressive experience in a JV Administrator role;
Committee member:
JV Agreements Course Coordinator:
2+ years' experience with completion of the JV Administration or JV Analyst Certificate Program, OR
5+ years' experience in a JV Administrator or JV Analyst role
Delivery skill set:
Ideal candidates for this role exhibit some or all of the following skills:
Able to work in a confidential manner,
Have current, relevant, industry experience and an understanding of the current PJVA Model agreements in use
The ability to identify, research and summarize information from various sources,
Able to write new material, or edit existing materials, in a clear and concise manner suitable for use as an educational resource.
ALL interested PJVA members are welcomed to submit their names to Helen O'Brien (Helen.Obrien@huskyenergy.com) for any of these roles – your unique combination of experience, background, and skills might be exactly what is needed for the ongoing development and maintenance of our course materials.
---
PJVA Seminar: JP05 Workshop - April 30, 2019 - REMINDER!
PJVA Classroom - 600, 900 - 6 Avenue SW
7:30 am registration; 8:00 am - 4:00 pm seminar
The JP-05 workshop will cover the following topics:
How capital and operating fees are determined using JP-05
Importance of disclosure, collaboration and negotiation
Case study for negotiation and determination of fees
Discussion of case studies
Regulatory issues relating to JP-05
This workshop will be in depth and include actual examples and case studies.
The facilitators for this workshop are the original authors of the JP-05 Report.
This workshop will be appropriate for anyone who is in a position that requires more knowledge in the negotiation and calculation of Gas Processing Fees.
---
Golf Networking Event – SAVE THE DATE - May 30, 2019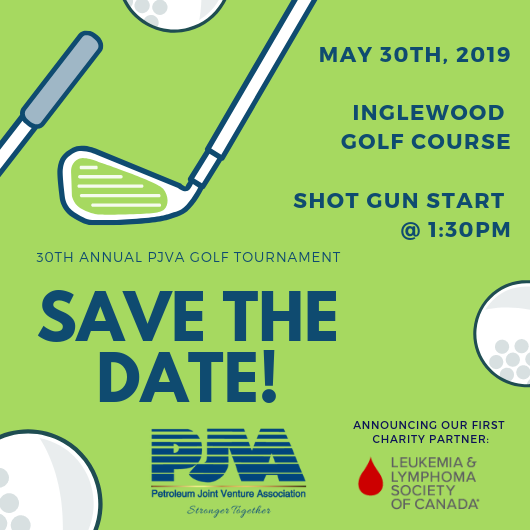 ---
Communicating with the Agreements Task Force
Following up on a parting remark regarding questions regarding the Pad-Site Sharing Agreement which was rolled-out on the 25th of September, the PJVA has created and will be monitoring the email address taskforce@pjva.ca. Please feel free to submit your questions and comments regarding the PSSA and/or any other agreements currently in use. We will be compiling and forwarding the comments to the various groups for response.
As the goal of this method is to make this process as easy on our volunteers as possible, we ask that you submit your questions/comments/suggestions in the following subject line format.
"YYYY Agreement – comment"
For example if you wish to have clarification around "seepage and pollution" insurance as mentioned in Article V, Clause 502 of Exhibit A to the PSSA please title the email by this same or similar convention.
"2018 PSSA – Exhibit "A" 502 "seepage and pollution"
On behalf of the PJVA, thank you very much for your comments
John Downey
PJVA - Director Task Forces
---
A letter to the Prime Minister and other political leaders
I wrote and emailed a letter at the beginning of the year. In both official languages, I emphasized:

Bill C-69 needs to be revised or canceled.
Pipelines should be built without interference and bureaucratic obstacles.
The Quebec premier is wrong about Canadian oil and gas in several ways.
The Carbon Tax is harmful and should be stopped.
It was sent to several politicians, starting with Justin Trudeau. The only reply has been from Alberta premier Rachel Notley. She agreed with most of the points I made, however she defended the "Carbon Levy". At the very least, she read the word file and responded. In addition to a number of protests, many concerned individuals have written to many government ministers and leaders, both provincial and federal.
Peter Mitchelmore
PJVA Newsletter Editor
---
Membership Survey Gift Certificate Winner
Many thanks to all PJVA members who completed and submitted answers from the membership survey. The results of the survey are being compiled and will be announced in the upcoming issues of JV Views. There was a draw for a $50 Gift Certificate for those who completed the survey and elected to participate in the draw. The lucky winner is Ann Nickerson of Keyera! Congratulations Ann!
---
Roughnecks Partner with Canada Action – April 12, 2019
Calgary Roughnecks have partnered with Canada Action to show our appreciation for the Energy industry and the Oil Field families within our city.
On Friday, April 12th the Roughnecks will be giving back to the community when they take on the Georgia Swarm. Through our special ticket offer, $5.00 from every ticket sold will be donated to the Salvation Army to support Southern Alberta Oil Field families affected by the economic downturn.
You can purchase tickets by clicking here: http://www.calgaryroughnecks.com/canadaaction/
---
Consider a Corporate Sponsorship with PJVA?
Is your company interested in a Corporate Sponsorship of PJVA? Do you know the benefits of being a Corporate Sponsor?
For further details please contact Jana Prete – PJVA Director or Connie Pruden at the PJVA office.
---
Upcoming Events
JP05 Course
April 30, 2019
PJVA Luncheon
May 16, 2019
PJVA 30th Annual Golf Networking Event
May 30, 2019