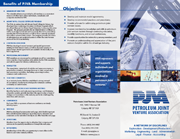 View PDF Brochure
General Information
---
PJVA's Mission
The mission of PJVA is to enhance the efficiency and effectiveness of petroleum joint venture relationships and activities.
---
Objectives of the Association
(Proposed Change to be presented for approval at the Sept 13, 2017 AGM)
August 4, 2017
The Board is proposing a change to the Objectives in order to clearly define point number two (2). This motion will be put to a vote at the September 13, 2017 annual general meeting at The Bow Valley Club - 370, 250 – 6 Avenue at 11:30 am.
Be it Resolved that point # 2 of the Petroleum Joint Venture Association Objectives be changed from:
2. participating in, developing and/or endorsing, recommended practices and procedures for petroleum joint venture matters;
To:
2. participating in, developing and/or endorsing, and maintaining recommended practices and procedures for petroleum joint venture matters; "
The objectives of the Association shall include:
developing and maintaining model agreements for petroleum joint venture matters;
participating in, developing and/or endorsing recommended practices and procedures for petroleum joint venture matters;
providing a forum for addressing petroleum joint venture issues;
improving membership knowledge and skills in petroleum joint venture matters through continuing education, monthly luncheons, and annual conferences;
providing opportunities for networking among Members; and
promoting an understanding and appreciation of the joint venture discipline within the oil and gas industry.
---
What is a Petroleum Joint Venture?
An agreement between two or more oil and gas companies for the purpose of development and production of oil and gas properties. The agreement defines the property, most commonly a "production facility", the relationship between the parties and the responsibilities assigned to the parties.
Typically a Petroleum Joint Venture does not include joint exploration activities, nor does it include marketing activities.
---
What is a Joint Venture Specialist?
An oil and gas company's front line representative responsible for transacting and managing joint venture agreements. Joint Venture Specialists provide a liaison between the land, accounting, engineering, marketing and legal departments, as well as field offices.
---
What are Typical Joint Venture Tasks?
Negotiate production facility ownerships, processing and transportation agreements.
Monitor costs, production volumes, profitability and audits, through analysis of production reports, operating expense and capital budgets.
Provide input into the development and design of a production facility.
Manage the resolution of business and technical conflicts.
Establish and maintain good relations with Joint Venture associates.
Coordinate all administration duties pertaining to the ongoing operation of a production facility.
---
The Principle Disciplines of Our Members
The variety of membership backgrounds is one of the unique things about PJVA. We are multi-disciplined, a critical requirement for successful, professional joint venture negotiating, operating, working and succeeding together.
PJVA members include Engineers, Landmen, Geologists, Accountants, Lawyers, Analysts, Administrators, Petroleum Marketers and Buyers as well as others, from educational institutions, government agencies, research groups and junior, intermediate and major oil and gas corporations.
---
The 5 Year Vision
Background:
Every year the PJVA Board of Directors participate in a one day strategy session to decide on new projects and continued follow-through on existing projects. Because of a lack of continuity, other than Connie, various Boards unknowingly re-address old items that previous Boards have worked on.
Our focus has traditionally been Western Canada (more specifically, Alberta).
To provide more continuity between older and more current Board decisions we have decided to draft and approve a 5 year Vision, to post it on the website and to discuss it as a starting point on each year's strategy session.
Vision
The PJVA is an internationally recognized and respected organization. Our educational programs and model agreements are leading edge and are used as the reference by which other organizations measure themselves. That being said, PJVA members are normally not involved in international negotiations. Due to the cultural differences and magnitude of these deals it is unlikely that many of our negotiators will ever be involved at the front-end of these deals.
While we are recognized internationally, we sometimes struggle with recognition within our own organizations.
The PJVA will foster relationships with other organizations to garner recognition of our skills and to expand our area of influence to be more international. This will be accomplished by working with organizations like AIPN.
One area which we as an organization can improve is in respect and recognition of our values within our own companies. This is especially true in larger organizations.
We will work toward promoting the economic benefit of our members to the upstream and midstream companies in which we work. We will continually evolve and adapt to changing needs within the industry.
Succession planning is still a significant issue facing our industry as a whole and our sector in particular. Will we be asked to do more with less? How are we going to do that if we don't have junior staff who have strong skills and experience?
We will continue to support succession planning within the joint venture/joint interest area by keeping a focus on educating our members in formal and informal formats. We will continue developing and offering our courses through accredited institutions. We may develop a mentorship program between senior members of the PJVA and junior members to the benefit of all parties.
With the current pricing downturn of both oil and gas we, as an association are faced with a challenge of supporting members who may no longer be employed in our industry. Additionally, we may have other parties who reach out to us for support of their members who are looking for new work opportunities, or career changes.
We plan to connect with our under-utilized PJVA members or former members and to decide how to keep them engaged. Be that through volunteer for membership or some other way of helping.
We have invested a considerable amount on education programs for our members. Historically, these courses were offered to benefit the more junior members of the PJVA community. As those members have matured in their careers a need has arisen to provide courses that are tailored to these senior professionals.
We plan to move forward with developing a program for keeping negotiators moving forward in their career paths. We envision a program with numerous options in course offerings, not necessarily offered solely by the PJVA. We will investigate different educational institutions to host this program and decide on one most suited for our profession.