JVViews: April 2014 Issue
Editor's Note
25th Annual Golf Networking Event
PASC Education Day - Special Early Bird Offer extended to PJVA members!
Member News Section
PJVA/GPAC Joint Conference Updates
1995 Annual Report Request
PASC Education: Introduction to the 2011 Accounting Procedure
Luncheon Director's Note
Upcoming Events
eStudies and Web Based Learning - The JV Analyst I course is now online!
Looking for a New Opportunity?
PJVA LinkedIn® Group
---
Editor's Note
A Note from the Editor...
March was not the lovely month I was anticipating but April holds more promise. As mentioned in last month's issue, this year PJVA is celebrating the 10th anniversary of our Summer Kickoff breakfast. We are still considering venue options and welcome suggestions from our members. Please contact either Rein Evelein or Connie Pruden.
Don't forget to register for this year's golf tournament to be held on June 4th at the Hampton's.
Our thanks to Brooke Archibald for an update on Alex Epstein. Alex was the feature speaker at the 2013 annual PJVA/GPAC Joint Conference. The 2014 Conference committee is looking for topics and speakers for this year's event. Please forward suggestions to Brooke at
Brooke.Archibald@shell.com
The March luncheon speaker Alvin Law drew one of the largest crowds to date with his topic the Energy of Attitude. If you were unable to attend, please check out his book, Laws of Life, available on his website at
www.alvinlaw.com
We'd like to take this opportunity to wish all of our members a safe and happy holiday over the upcoming Easter weekend.
Joan Lee
---
25th Annual Golf Networking Event
Don't forget to signup before the early bird deadline May 5th for PJVA's 25th Annual Golf Networking Event! This year the event will be hosted at the Hamptons. For more information, please visit
PJVA website
.
Date:
Wednesday, June 4, 2014
Time:
Complimentary BBQ lunch - 11:30 am
SHOTGUN START - 1:00 pm
TEXAS SCRAMBLE TEAM FORMAT (limited to 128 players)
(Proper Golf Attire: soft spikes, shorts 6'' inseam)
Location:
The Hamptons Golf Club
69 Hamptons Drive NW
(off Country Hills Blvd NW)
Registration:
Online Secure Registration
---
PASC Education Day - Special Early Bird Offer extended to PJVA members!
Special Early Bird Offer extended to PJVA members!
PASC Education Day takes place at the Calgary Marriott on Thursday May 15th. An impressive roster of speakers will be exploring the theme of this year's conference: "A World of Possibilities".

Highlighted Speakers
Ray Chan - Executive Chairman, Baytex Energy
Mike Spencer Bown - World's Most Travelled Man
The Special Early Bird rate of $300 has been extended to PJVA members until April 18th! To take advantage of this offer, please email or fax the
registration form
to
info@petroleumaccountants.com
or 403.244.2340
Earn 8 hours of verifiable professional development credits by attending!
---
Member News Section
PJVA is considering a "member news section" to track notifications of members on the move, retirements, etc. These announcements would be reviewed by PJVA to ensure appropriateness and would be published only with the individual's written permission. Please contact either Connie Pruden or Joan Lee with thoughts, concerns or announcements for publication.


---
PJVA/GPAC Joint Conference Updates
Alex Epstein - Spotlight Speaker Follow-up
Since speaking at the PJVA/GPAC conference, Alex has been focused on two major projects. One is a new book,
The Moral Case for Fossil Fuels
, published by Penguin/Portfolio, coming out on November 13, 2014. The book is based on an essay of the same name, which was circulated among hundreds of energy executives last year. Alex's goal is to make it the most persuasive book ever written on fossil fuels, so you can use it to persuade friends and family--and to make yourself a better ambassador for your industry.
The second project is using the principles of values-based communication Alex discussed at the conference to "audit" the messaging of certain energy companies, including some in Canada, to help them radically improve their ability to neutralize attackers, turn non-supporters into supporters, and turn supporters into champions. Alex has also been speaking throughout the US and Canada about the moral case for fossil fuels, and hope's to speak to the PJVA again.
If you are interested in getting involved in either of these projects, whether to help promote the book or get your messaging audited, you can contact Alex at
alex@industrialprogress.net
.
21st Annual PJVA/GPAC Joint Conference
Proposals for topics and speakers for the 2014 conference are now being accepted!
The PJVA conference committee is continuously looking for interesting topics and speakers for the annual conference. The PJVA invites you to submit ideas on topics for a possible presentation or panel discussion. Please send your ideas to Brooke Archibald at
Brooke.Archibald@shell.com
.
---
PASC Education: Introduction to the 2011 Accounting Procedure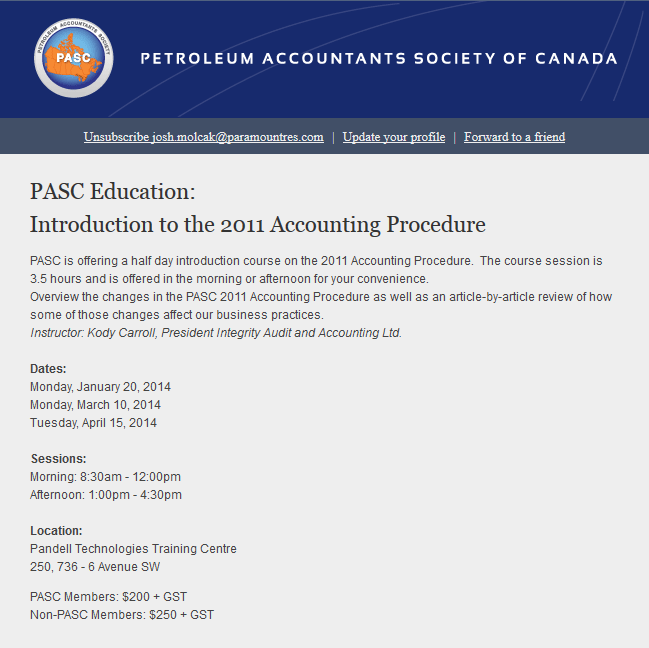 For more informaiton and online registration, please visit PASC web site.
---
1995 Annual Report Request
If anyone has a copy of the
1995 Annual Report
could you please forward a scan or original to the
PJVA office
. It will be in preparation of the 25th Anniversary Golf Networking event!
---
Luncheon Director's Note
Please continue to foward your input on the past year's luncheons as well as any ideas of topics or speakers you would like to see for 2014.
Your input is important as the PJVA wants to offer a variety of luncheon presentations that are of interest to the most important aspect of our association - YOU!
We had a variety of topics since September when I took over; from legal, to software to technical. Here's your chance to voice your valued opinion!
How did you find the past year's topics?
What would you like to see in the future?
Are there past luncheons you would like to see revisited?
Do you know someone who is looking to present?
Your opinion matters! Please submit any questions, requests or comments to Richelle Lindsay at
engage@pjva.ca
.
I look forward to hearing from you!
Cheers to an exciting 2014!
Richelle Lindsay
Luncheon Director, PJVA
---
Upcoming Events
April Luncheon
April 24, 2014
May 15, 2014
June 19, 2014
Pub Night Networking
April 16, 2014
May 22, 2014
June 12, 2014
Land Agreements Overview
- April 29, 2014
Early Morning Discussion
- April 30, 2014
2 day Seminar: JV Agreements
- May 6-7, 2014
Intro to JV Accounting
- May 27, 2014
25th Annual Golf Networking
- June 4, 2014
To Register, please go to PJVA website:
https://securegs.com/pjva/
---
eStudies and Web Based Learning
PJVA has a suite of web based courses geared towards practicing and prospective JV professionals and personnel involved in the development and operation of a Joint Venture facility.
These courses, available via the eStudies link at
www.pjva.ca
, are a supplement to the Joint Venture Certificate Program offered through PJVA and Mount Royal University. The courses offered on eStudies are identical to the courses offered at Mount Royal, the only distinction being that the Mount Royal courses are applicable towards the Joint Venture Certificates while eStudies are not. As well, the eStudies courses are offered in segments such that the student can customize and streamline their learning experience.
eStudies courses include Joint Venture Agreements, with modules in Construction, Ownership and Operating Agreements, Unit Agreements, and Service Agreements, Joint Venture Administration as well as Joint Venture Analyst Levels 1 and 2. The Agreements courses offer excellent background knowledge to anyone who works with or is bound by a Joint Venture Agreement. Joint Venture Administration details exactly how work is to be conducted within the legal framework of Joint Venture agreements. The Analyst courses provide understanding of Joint Ventures techniques and processes.
PJVA is excited to offer customizable and accessible web-based learning options to industry professionals. Check out
www.pjva.ca
today and click on eStudies!
---
Looking for a New Opportunity?
Check out the
PJVA Job Board
for recent postings.
---
PJVA LinkedIn® Group
PJVA is now on LinkedIn®, the world's largest professional network. It's a great way to stay connected and exchange ideas with other PJVA members and industry professionals.
Click here
to join the discussion!
---
PJVA was incorporated in 1985 to represent individuals and organizations involved in petroleum joint ventures.
JVViews
is published to keep members informed about upcoming PJVA and industry events, courses and seminars offered and/or sponsored by PJVA and current projects being facilitated by the Association.