JVViews: Summer 2014 Issue
Large Joint Ventures: A Change in the Commercial Landscape of the WCSB

June Luncheon Review – Valerie Cusano, Oil by Rail - The New Risk Frontier

10th Anniversary Pre-Stampede Kickoff Breakfast Review

May Luncheon Review – Max Sconyers, Resolving Disputes Out of Court Using Arbitration Methods

Pub Networking Nights

PJVA/GPAC Joint Conference Nov 6, 2014

Luncheon Director's Note

Upcoming Events

eStudies and Web Based Learning

Looking for a New Opportunity?

PJVA LinkedIn® Group




---
Large Joint Ventures: A Change in the Commercial Landscape of the WCSB
Suma Mathew and Paul de Villenfagne – on behalf of the PJVA Strategic Advisory Group

The energy industry in Western Canada seems to be thriving and moving at an ever-increasing pace. Much of the new activity seems to be around developing unconventional plays and getting ready for large export projects (LNG for gas and pipelines for heavy oil).

This all comes after facing several challenges. The Canadian Oil and Gas Industry has endured a low commodity price environment for several years - the longest stretch in the last 20-30 years. The fiscal regime is one of increasing involvement of the Regulators. There is a higher focus on environmental and ecological issues. These challenges initially resulted in an increase in foreign investment in the share capital of Canadian companies and acquisitions of Canadian oil and gas companies.  In response to pressures under the umbrella of Investment Canada Act reviews, in particular, on the CNOOC-Nexen deal, Prime Minister Harper has signaled that Joint Ventures will be viewed as a less sensitive vehicle for foreign investment from State Owned Entities ("SOEs"). This has resulted in the Industry developing an innovative solution to manage decreasing margins, low cash flows, and reduced funding for capital investment. The Industry has responded with the emergence of the large Joint Ventures (JVs).

These large Joint Ventures enable direct foreign investment in Canadian oil and gas assets.  Rather than yielding a cash return on capital invested (such as dividends on share investment), the Joint Venture partner injects capital into the development of oil and gas reserves and in return, receives a share of the production and/or proceeds of sale from the production, through a series of complex contractual arrangements.

In particular, International players are buying into assets, projects and industry knowledge within Canada's politically and commercially friendly environment. The size and scope of these Joint Ventures vary, as parties test the waters for continued future investment. The result seems to be a new class of JVs that seem to have a different flavor than the JVs we have seen in the past.

These JVs are often rooted in agreements based on Association of International Petroleum Negotiator ("AIPN") templates that are modified for the specific Canadian projects they govern. To be ready to work in the parameters of these JVs, it is important that PJVA members become informed and conversant in these AIPN style agreements. PJVA members bring a strong appreciation for complex issues to the table and are successful and managing complex situations, commercial arrangements and related issues. The advantage for industry to have the PJVA involved is that the experience of the PJVA membership will make for better project agreements. It is important that the PJVA and the AIPN work together to effectively structure and manage these large JVs.
Background
Joint Venture activities in the Western Canadian Sedimentary Basin (WCSB) (and further afield in unconventional development projects) are becoming increasingly more complex. There is a growing trend toward plays with larger land bases (e.g. Montney and Duvernay) which require significant capital to exploit the asset. The WCSB is witnessing a significant influx of larger (and most often International) Joint Venture Partners to provide this capital. Examples include Sasol, Mitsubishi, Sinopec and CNOOC. The larger Joint Venture arrangements are often land based – there is a large land component (with a significant AMI), and typically, many other components, such as Facilities (Midstream), Marketing, Downstream assets, etc.
There are typically two main phases to these larger Joint Ventures – negotiation and ongoing operation. As an association, we need to be better equipped to handle these larger Joint Ventures. Our membership is trained and experienced in typical WCSB Joint Ventures. We need to develop expertise in negotiating and managing these larger Joint Ventures. Often, the negotiation of these larger deals are done between the Legal and Business Development departments of companies, with little or no input from key stakeholders, such as Joint Ventures, Accounting, Facilities, Supply Chain Management, etc. This is problematic as once the deal is done, these other groups must reactively manage and administer the obligations under these arrangements for the life of the Joint Venture. A large part of managing the Joint Venture involves ensuring that the obligations under the agreements can be (and are being) met. Given the scope and magnitude of these larger Joint Ventures, the implications of poor management are massive. Often, the tone is set in the negotiation. If the appropriate tone and ground rules are not set up front, the follow through will be impacted.
Unlike the typical WCSB Joint Venture, the non-operating Partner demands a much greater role in the management of the asset due to the magnitude of the development and the capital involved. Current processes for working together during the operational phase are inefficient. Much duplication, waste and frustration can be avoided if all parties agree to the ground rules up front. Critical to the ongoing operation and management of these arrangements is how well the partners work together, how well they communicate, and determining up front how each party can best contribute meaningfully to the Joint Venture.
As the Industry continues to seek out new commercial arrangements and strategic alliances with which to fund its ongoing operations and development plans, several structures of Joint Ventures currently exist, including Joint Venture Partnerships, Corporations, and Mixed-Operator models.
The AIPN has a key role in the negotiation of large Joint Ventures. The PJVA can add a significant contribution to both the negotiation and operational phase of these arrangements.
Challenges
Larger Joint Ventures typically require a blend of Land and Facility agreements (along with Marketing, Secondment, etc.), as the Joint Venture is managed as an overall project. Often, the AIPN Model Agreements are used (or a variation thereof) when establishing the relationship between each part because the AIPN Model contemplates a "cradle to grave" approach on upstream and sometimes also the midstream. The Joint Venture itself sits as an "over-arching" agreement, with several additional agreements linked to it, often including existing (conventional) agreements. There is a significant level of complexity (and often layers) in how these agreements are all linked and managed, in relation to typical WCSB Joint Venture arrangement. There is also a significant impact if they are poorly managed, both in terms of management of the operation and the relationship.
There are currently no templates or processes available to use to create or manage these agreements, as each deal structure may vary. However, there is opportunity to tap into the learnings from past deals, both from the negotiation and operations phases. Internal company processes often do not exist, and individuals are untrained in the management and implications of the larger Joint Ventures. Industry as a whole requires education on the benefits that Joint Venture professionals can bring to this process. However, most senior Joint Venture professionals lack the knowledge and expertise to be effective. There is an opportunity for the PJVA and the AIPN to work together to address this gap. It may be possible to utilize each other's agreements, develop common agreements, use existing tools and develop the new tools necessary to support the entire life cycle of the larger Joint Ventures.
We need to determine how best the AIPN and PJVA can work together and collectively with CAPL for the Mineral Land component. We need to find a way for the PJVA and AIPN to understand each other's skill sets, best promote each other, and use each other's resources. We need to promote bringing the right people in at the right time when agreements are being negotiated, as opposed to after the fact. We also need to determine how best to provide staff training, so that these Joint Ventures can be set up for success.
Requirements/Gaps
It is apparent that there is currently a gap in the Industry knowledge. This is evidenced in discussions with Industry Partners, and is supported by the emergence of consulting companies, such as Water Street Partners, who offer expertise in the set up and management of larger Joint Ventures.
The current gaps include the following:
A general understanding of the larger Joint Ventures (structure, negotiation, obligations and ongoing management)
An alignment of who needs to be involved in the team during the negotiation phase of the Joint Venture, and the roles within the negotiations
An understanding of which teams need to be involved during the ongoing management of the Joint Venture during the operational phase, and the respective roles
A guidebook (ground rules) of considerations for negotiating and managing the Joint Venture, including learnings from existing Joint Ventures
Education and collaboration between the PJVA and the AIPN would be welcome in the following areas:
Ensuring that appropriate input is solicited up front from the stakeholders to identify potential issues and land mines
Ensuring that the right people are at the table during the negotiation
Ensuring that there is a longer term view/outlook when the Joint Ventures are negotiated
Education on the type of agreements which need to be put in place
Education on setting up systems and processes to manage the Joint Ventures once implemented, so that team members understand their roles and responsibilities during the operational phase
Checks and balances which can be implemented to ensure appropriate oversight is occurring
Education is required at several levels – administration, agreements, and management (for senior Joint Venture professionals).
Next Steps
To move forward in developing the PJVA and its membership, the PJVA Board has established a Task Force to progress this initiative. This Task Force provides a link between the PJVA Board and members of the PJVA's Strategic Advisory Group (SAG).
Members of the SAG and the PJVA Board will facilitate a closer relationship with AIPN. Steps will be taken to educate the PJVA and AIPN membership on each other's agreements. This may take several forms but is likely to include courses and a presentation at the Joint GPAC/PJVA Conference.
Over the coming months there will be opportunities to get familiar with this new type of JV. Much of our work will continue to be based on the types of projects we are very familiar with. What we do to get ready for the new "Large JV" projects so we can reserve our position at the negotiating table and continue to add value as the spectrum of JV projects broadens.
---
June Luncheon Review – Valerie Cusano, Oil by Rail - The New Risk Frontier
PJVA's June 19 luncheon featured Valerie Cusano's insights on Oil by Rail and what challenges lie ahead for the industry. PJVA members gained a much better understanding of the Lac-Mégantic disaster and how liability for transport by rail has become a very important issue.

Valerie set the stage with a discussion of the presently heightened awareness of oil by rail within Canadian communities and among news outlets, specifically since the 2013 Lac-Mégantic derailment made the issue even more relevant in the public eye.

Regardless whether a spill is small or large, it is reported and garners much public attention. Unfortunately, oil transportation always carries spill risk and, Valerie explained, an argument could be made for both pipeline and rail as the safer oil transportation method depending on the source of your data.

Drawing attention to the Lac-Mégantic derailment and the logistics involved in that disaster, Valerie emphasized that liability becomes a big issue in a disaster of such magnitude. MM&A, the company contracted to transport that shipment, only had $25 million in liability insurance and that was spent in the first 48 hours. Further, the disaster resulted in lawsuits filed against the producers, marketers, trans-loaders, shipper, and the railcar repair and maintenance crew. The overwhelming fallout emphasizes the importance of having contracts and the appropriate liability insurance in place.

What does this mean going forward? Valerie pointed out that new trends and mitigation measures are being put in place following the Lac-Mégantic derailment. Moves such as railways attempting to push liability on the shippers and insurance companies restricting coverage are becoming more common place. In addition, mitigation measures such as operational exposures, contractual language and insurance wording are now being examined more closely. Due to the significance of this disaster the Federal Government is conducting a full review of the rail liability regulations in Canada.
---
10th Anniversary Pre-Stampede Kickoff Breakfast Review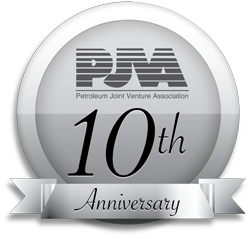 Thank you to everyone that joined us for the 10th PJVA Pre-Stampede Kickoff Breakfast; it was a blast with over 200 people joining us at the National on 10th.
We would like to take this opportunity to thank our sponsors:
Shell Canada for sponsoring music provided by Rotary Park
Joint Venture Management Inc. (JVMI), Gas Processing Association Canada (GPAC), Petroleum Joint Venture Association (PJVA), and Associations Plus for donating the door prizes
CNRL for contributing to the giveaway credit card holder
A special thanks to the Rotary Park and the National for the wonderful entertainment and delicious food. We hope you enjoyed the event and we'll see you next year!
View the event gallery
---
May Luncheon Review – Max Sconyers, Resolving Disputes Out of Court Using Arbitration Methods
The Association's May 15 luncheon featured a lighthearted and engaging presentation by Max Sconyers on the finer points of dispute resolution. Refreshingly entertaining, Max focused on the benefits of avoiding the legal process when handling disputes such as: flexibility that allows parties to have more control in the process; personal satisfaction brought by the fact that less time and money are spent on the matter; maintenance of confidentiality by keeping information out of the courts allowing both parties to zero in on the problem; and finally, strengthening relationships, leading to agreements that last and improved communication moving forward.

Max also discussed negotiation tactics and how, as an industry, we need to slightly shift our approach to negotiations. Although most of us typically negotiate with a competitive approach, Max pointed out that a purposeful approach to our negotiations would aid in finding more solutions before situations escalate.

The corporate environment and how change affects all of us, including the other party, play an important part in dispute resolution. Appreciating how change affects us both internally and externally and simply talking to people is often more effective in understanding the real issue rather than assuming the worst, Max concluded. A little human connection and interaction can go a long way in identifying and resolving the real issue.

Max's presentation was a wealth of good information and advice for our members and really drove home that communication and understanding the other party's true needs are essential to any successful negotiation.
---
Pub Networking Nights
Meet other PJVA members on the patio to discuss upcoming year initiatives and opportunities!

Non-members and students welcome, this is a great way to network with others in the industry. So come join us for a great night outside of the office!

Thursday, August 28, 2014

4:00 - 7:00 pm
Barley Mill - Eau Claire
201 Barclay Parade SW

Thursday, September 11, 2014

4:00 pm - 7:00 pm
The Libertine
223 - 8 Avenue SW (Upstairs Lounge)

Online Secure Registration

Please be advised that both venues will accept separate bills (individuals will need to provide a credit card).

If you can no longer attend the event after you RSVP, please email pjva@pjva.ca to cancel, so that appropriate seating can be arranged with venue.
---
PJVA/GPAC Joint Conference - November 6, 2014
21st Annual PJVA/GPAC Joint Conference
Save the Date
– The 21st Annual PJVA/GPAC Joint Conference is scheduled for November 6th at the Hyatt Regency Calgary.
Proposals for topics and speakers for the 2014 conference are now being accepted!
The PJVA conference committee is continuously looking for interesting topics and speakers for the annual conference. The PJVA invites you to submit ideas on topics for a possible presentation or panel discussion. Please send your ideas to Brooke Archibald at
Brooke.Archibald@shell.com
.
---
Luncheon Director's Note
Please continue to foward your input on the past year's luncheons as well as any ideas of topics or speakers you would like to see for 2015.
Your input is important as PJVA wants to offer a variety of luncheon presentations that are of interest to the most important aspect of our association - YOU!
How did you find the past year's topics?
What would you like to see in the future?
Are there past luncheons you would like to see revisited?
Do you know someone who is looking to present?
Your opinion matters! Please submit any questions, requests or comments to Richelle Lindsay at
engage@pjva.ca
.
I look forward to hearing from you! Cheers to an exciting 2015!
Richelle Lindsay
Luncheon Director, PJVA
---
Upcoming Events
Pub Night Networking Nights
August 28, 2014
September 11, 2014
Mini Information Session
- September 16, 2014
PJVA Seminar: A&D
- September 23, 2014
Early Morning Discussion
- September 24,2014
To Register, please go to PJVA website:
https://securegs.com/pjva/
---
eStudies and Web Based Learning
PJVA is excited to offer customizable and accessible web-based learning options to industry professionals. PJVA has a suite of web based courses geared towards practicing and prospective JV professionals and personnel involved in the development and operation of a Joint Venture facility.
These courses, available via the eStudies link at
www.pjva.ca
, are a supplement to the Joint Venture Certificate Program offered through PJVA and Mount Royal University. The courses offered on eStudies are identical to the courses offered at Mount Royal, the only distinction being that the Mount Royal courses are applicable towards the Joint Venture Certificates while eStudies are not. As well, the eStudies courses are offered in segments such that the student can customize and streamline their learning experience.
eStudies courses include Joint Venture Agreements, with modules in Construction, Ownership and Operating Agreements, Unit Agreements, and Service Agreements, Joint Venture Administration as well as Joint Venture Analyst Levels 1 and 2. The Agreements courses offer excellent background knowledge to anyone who works with or is bound by a Joint Venture Agreement. Joint Venture Administration details exactly how work is to be conducted within the legal framework of Joint Venture agreements. The Analyst courses provide understanding of Joint Ventures techniques and processes.
Check out
www.pjva.ca
today and click on eStudies!
---
Looking for a New Opportunity?
Check out the
PJVA Job Board
for recent postings.
---
PJVA LinkedIn® Group
PJVA is now on LinkedIn®, the world's largest professional network. It's a great way to stay connected and exchange ideas with other PJVA members and industry professionals.
Click here
to join the discussion!
---
PJVA was incorporated in 1985 to represent individuals and organizations involved in petroleum joint ventures. JVViews is published to keep members informed about upcoming PJVA and industry events, courses and seminars offered and/or sponsored by PJVA and current projects being facilitated by the Association.