JVViews: November 2014 Issue
Editor's Note
CO&O Task Force Update
October Luncheon Review – Evan Baker, CEA and Group Lead of Regulatory Audit and Advisory, Cenovus Energy Inc.
Early Morning Session ("EMS") – The Statute of Limitations
Volunteer Luncheon Summary
November Luncheon Announcement
Upcoming Events
eStudies and Web Based Learning
JV Rep Tool + Role Opportunities
Looking for a New Opportunity?
PJVA Linkedin Group


Editor's Note
Well, I guess I don't have to tell you that winter has arrived.  I just wish Mother Nature would ease us in a bit more gently; +15 to -20 in just a day or two is hard on the system!  But anyone who has lived in Calgary for more than one year knows about the ever changing weather so nothing should surprise us.  The cold weather also makes us realize that the end of the year is near and that means….the Christmas season will soon be upon us.  Be sure to take in the PJVA Christmas Social on Thursday, November 27 at the Petroleum Club.  There is no charge to PJVA members for this popular annual event that includes two complimentary drinks and a fine selection of hors d'oeuvres.  We hope to see you there!
---
CO&O Task Force Update
The task force commenced in January 2012, with current members:
Ib Moller, recently retired from GPMi
Lynda MacNeill ,from Encana
Crawford Hutchinson, from Devon
John Rothwell, from Conoco Phillips
Jan McLean, independent consultant
Tim Reimer, from GPMi, and
Retired task force members: Carrie Fyfe, from Devon and Nick Harris from Imperial Oil
A huge response from the members throughout 2012 resulted in a major review of the Model Agreement. There are two very positive aspects apparent from these responses: there is a lot of passion for this document and there were no major surprises. We anticipate there will be only a few changes to the Head Document and possibly some more substantive changes to the Appendices, specicifally in regards to Measurement and Allocation, capacity usage and cost sharing. There will be a lot of annotations and explanatory notes to capture key concepts and add more clarity to the annotations. One of the governing principles has been to preserve the document as a model for 80% to 90% of the situations requiring a CO&O and to achieve that goal the task force has worked on a consensus approach. We anticipate being able to provide a document for legal review by the second quarter of 2015 and the preparation of the full annotations would be completed sometime after that.
---
October Luncheon Review – Evan Baker, Cenovus Energy Inc.
Evolution of a Project Cycle Audit Program
PJVA's October 16 luncheon featured insights on the evolution of the Project Cycle Audit Program presented by Evan Baker, a CEA and Group Lead of Regulatory Audit and Advisory with Cenovus Energy Inc. Evan helped PJVA members gain a better understanding of the Audit program's expansion to not only include operating facilities but also additional audits that have been developed to meet the entire Project Life Cycle.
Discussing the Environmental Health and Safety Regulatory Audits, Evan explained how the focus has changed over time: companies are now more in tune with what they actually handle and what their risks are so they audit what matters to their team. We now audit the Full Project Life Cycle which means we start from the greenfield and audit at each different stage until coming full circle to the point after reclamation when the site has been restored back to a greenfield. Going through the project life cycle, Evan identified many new audits such as post A&D audits, transportation audits, construction / approvals audit and camp water facility audits, to name a few.
However, as we move forward, there will be many challenges and opportunities, Evan warned. We have to keep in mind that audit budgets are not infinite; we can run audits efficiently by ensuring we have the right resources, planning and expertise. Further, as the audit process has grown, it has also provided a deeper talent pool, training is ongoing and by exchanging knowledge and ideas the process is continually improving.
Evan covered a wealth of good information on the Project Cycle Audit Program, how it has grown and what challenges and opportunities lay ahead as we look to the future.


---
Early Morning Session ("EMS") – The Statute of Limitations
The topic for discussion at the Early Morning Session held on Wednesday, October 29th was the Statute of Limitations, a recurring topic of interest to our membership.
Julie Taylor and Paul Chiswell, solicitors with Burnet, Duckworth & Palmer, LLP, presented on the statute in general and its application in our PJVA agreements, primarily around billings. The session was very well attended and generated many questions and comments. As a follow-up to the presentation, Julie and Paul have offered the explanation/clarification below on the situation where a party waits longer than the two year limitation period before sending its invoice for the first time.
Disclaimer: this explanation should not be considered legal advice due to its general nature. In particular, it doesn't consider the effect of any particular agreement, the facts specific to any case, nor any other potential defences. You should contact legal counsel directly for specific professional advice if you have a specific question.
The Question
Party A did work for Party B. Party A then waits six years until after the work was completed to invoice Party B for the first time. Is Party A's claim statute barred such that Party B does not have to pay?
Our Answer
As is frequently the case, the law is not 100% clear and the answer will always depend on your specific facts. In this example, Party B likely has no defence under the Limitations Act.
Under the Alberta Limitations Act, if a creditor does not file a lawsuit within two years from the date it knew, or ought to have known, that the debt was due and had not been paid, then the debtor may use the Limitations Act as a defence to any claim on that debt.
The difficulty is determining when the creditor ought to have known that the debt was due but had not been paid. The law in Ontario arguably differs from the law in Alberta.
In Ontario, the courts have considered this type of situation before and have held that parties cannot sit on invoices forever. Under this approach, the limitation period begins to run after both the time period that the invoice should been delivered following the work and the time period the account should have been paid. This does not provide much of a brightline rule, but the parties' agreement or past practice can be used to figure out what kind of time is reasonable.
In Alberta, the courts have not directly addressed the issue. But the case law so far strongly suggests that the limitation period for an unpaid debt begins to run only after the debtor refuses to pay. This appears to require that an invoice be issued or a demand be made on the debtor before time starts to run (unless the debtor spontaneously announces its refusal to pay).
So in the above example, where the creditor (Party A) has yet to issue an invoice and the debtor (Party B) has yet to say or demonstrate that it will not pay, the creditor doesn't know whether the debtor will or won't pay. The Alberta approach is to say this means that the creditor does not know, and has no reason to know, that it has suffered an injury or that this injury warrants bringing a proceeding. Without that knowledge, the two-year Alberta limitation period has not started. Therefore the creditor can still issue the invoice and, if necessary, bring a claim against the debtor for the non-payment of the debt. The debtor has no defence under the Limitations Act. Of course, the debtor can still rely on the ten-year limitation period for invoices issued over ten years after the work is completed.
The law is unclear in Alberta because the Alberta courts haven't directly addressed the issue. And given the inherent logic and commercial reasonableness of the Ontario approach, it's possible that the Alberta courts might one day adopt it. The persuasiveness of the Ontario approach only grows the longer the gap between the date the work is completed and the date the invoice is finally issued.
Attached is a more detailed article written by Romeo Rojas and Julie Taylor of our firm in April 2012. We're also attaching a copy of our presentation so you could make that available to your members.
Julie and Paul's presentation on the Statue of Limitations is available on the PJVA website. In addition, an article written by Julie and Romeo Rojas published in the April 2012 Oilsands Review, relating directly to the subject of stale billings, is available by contacting the PJVA office.
On November 3, 2014 a "special" EMS was held at the Petroleum Club. Mr. Ole Ryland, Executive Director for EPIM (Exploration Production Information Management) of Norway, spoke to attendees about the organization and, in particular, the creation of the L2S (License to Share) initiative to share information between operators and partners.

---
Volunteer Luncheon Summary
Our Annual PJVA Volunteer Luncheon was held October 29th at the Petroleum Club to recognize all of the hard work and efforts that our volunteers have contributed to PJVA over the past year. 40 volunteers were in attendance which is approximately half of our volunteer base. Special thank-you's go to the Education portfolio and Task force members for the new Emulsion Handling Agreement which was close to 2 years in the making. It shows the passion our volunteers have in dedicating their time outside of work to furthering the success of our association and it makes PJVA that much stronger!
Thanks,
Scott Wolfson
PJVA Director, Membership/Social/Volunteers

---
November Luncheon Announcement
The Northern Gateway Pipeline – Get the facts!
Join us November 20 to gain valuable insight into the highly debated Northern Gateway Pipeline.
As outlined in the www.gatewayfacts.ca website the challenge we face is that "Canada's most valuable resource is crude oil, with 99% of all our oil exports going to the United States at discounted prices." Enbridge has proposed a solution that will assist with the growth and diversity of market opportunities for one of our most valuable resources: "The $6.5 billion Northern Gateway Pipeline will provide access to new markets in the Pacific Rim. More than that, the pipeline will be a model of world-class safety and environmental standards."
Michele Perret, Enbridge
PJVA welcomes Michele Perret, Director of Public and Aboriginal Engagement, Northern Gateway at Enbridge to discuss her role, challenges and successes so far in the development for the Northern Gateway Pipeline. She joined Enbridge in 1991 in the Regulatory Affairs department at Enbridge Pipelines Inc. where her responsibilities included developing pricing mechanisms for the transportation of crude petroleum in Canada and the United States, coordinating applications to the National Energy Board and Federal Energy Regulatory Commission, working on acquisitions, and negotiating short and long term agreements with industry. In 2005, Michele joined the Public and Government Affairs department and in 2007 was provided the opportunity to develop the Community Relations department at Enbridge. Prior to joining Enbridge, Michele worked for General Motors of Canada in Oshawa, Ontario.
Date
Thursday, November 20, 2014
Time
11:30am - 1:30pm
Location     

The Petroleum Club
319 - 5 Avenue SW, Devonian Room 2nd Floor
---
Upcoming Events
PJVA Annual Christmas Social - November 27, 2014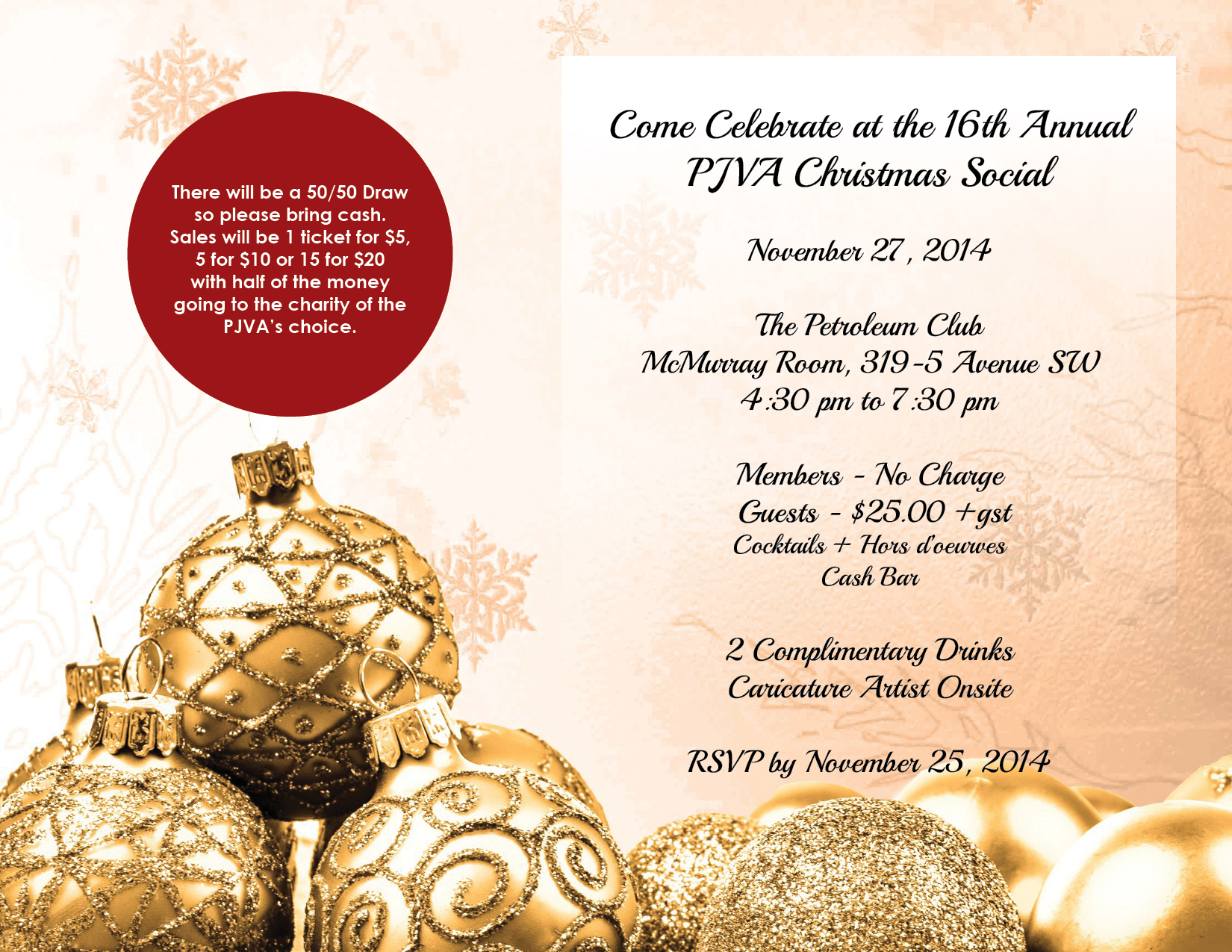 To Register, please go to PJVA website: https://securegs.com/pjva/


---
eStudies and Web Based Learning
PJVA is excited to offer customizable and accessible web-based learning options to industry professionals. PJVA has a suite of web based courses geared towards practicing and prospective JV professionals and personnel involved in the development and operation of a Joint Venture facility.
These courses, available via the eStudies link at
www.pjva.ca
, are a supplement to the Joint Venture Certificate Program offered through PJVA and Mount Royal University. The courses offered on eStudies are identical to the courses offered at Mount Royal, the only distinction being that the Mount Royal courses are applicable towards the Joint Venture Certificates while eStudies are not. As well, the eStudies courses are offered in segments such that the student can customize and streamline their learning experience.
eStudies courses include Joint Venture Agreements, with modules in Construction, Ownership and Operating Agreements, Unit Agreements, and Service Agreements, Joint Venture Administration as well as Joint Venture Analyst Levels 1 and 2. The Agreements courses offer excellent background knowledge to anyone who works with or is bound by a Joint Venture Agreement. Joint Venture Administration details exactly how work is to be conducted within the legal framework of Joint Venture agreements. The Analyst courses provide understanding of Joint Ventures techniques and processes.
Check out
pjva.ca
today and click on eStudies!
---
JV Rep Tool + Role Descriptions
Don't forget this valuable member benefit when looking to define or advance your career.
---
Looking for a New Opportunity?
Check out the
PJVA Job Board
for recent postings.
---
PJVA LinkedIn® Group
PJVA is on LinkedIn®, the world's largest professional network. It's a great way to stay connected and exchange ideas with other PJVA members and industry professionals.
Click here
to submit your thoughts and ideas!
---
PJVA was incorporated in 1985 to represent individuals and organizations involved in petroleum joint ventures. JVViews is published to keep members informed about upcoming PJVA and industry events, courses and seminars offered and/or sponsored by PJVA and current projects being facilitated by the Association.